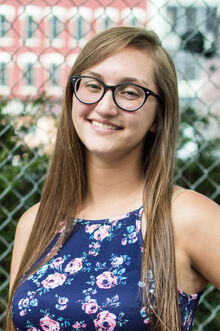 Addie Peelle was a troupe member of It's All Been Done Radio Hour from its inception in July 2015 through the second anniversary in July 2017, and is the sister of former troupe member Amanda Iman. She was the youngest troupe member, appearing throughout her sophomore and junior years of high school, which is why she had limited availability during her tenure. Twice, she filled in as Foley artist for the show. When the role of associate player was created in April 2016, Addie was listed as that status, as her high school commitments kept her appearances to part-time.
Addie was active in high school theatre and band. She wants to make sure everyone remembers, "Thomas Edison was a witch."
Addie's Meet the Cast was the fifteenth in the series, released as podcast episode 85.
Characters
Main Characters
Robbie in the Robbie commercials.
Kamomile in the IABDPR commercials.
Random Kid in "Splunk!"
Allison in Georgie's Jabs "Gamer Girl Allison."
Recurring Characters
Guest Characters
Eliza Schuyler Hamilton in "Alexander."
Fran in "And the Case of the Missing Hans."
Jeanette in "Wherefore Art."
Sammy Shepard in "Break Out."
Lt. Redd in "Ketchup."
Snider in "Dirt In Your Eye."
Community content is available under
CC-BY-SA
unless otherwise noted.