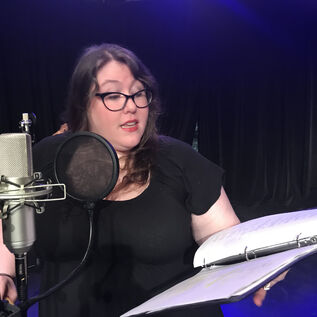 Amanda Iman was a troupe member of It's All Been Done Radio Hour from its inception in July 2015 through the third anniversary in July 2018, and is the sister of former troupe member Addie Peelle. Amanda was also the script editor from early on through mid-2017, and assisted with event listings and social media.
Amanda is a graduate of Otterbein University, where she received a Bachelor's degree in English-Literary Studies with a minor in Music. She currently lives in the central Ohio area with her wonderfully supportive husband. She is a lover of all things pop culture, particularly movies, books, and the Oscars.
She used that love of film to host the third-ever podcast on It's All Been Done Presents, The Oscars are My Super Bowl. Originally produced by the network on a Presents feed along with Dirty Story Night, it was soon spun off onto its own feed. Because of copyright concerns, the podcast was renamed Amanda's Picture Show A Go Go. With the network, she also created a second podcast, Pop Culture A Go Go, which she owned and produced herself. In early 2017, Amanda bought Pic Show from IABD. Later that year, the A Go Go podcasts separated from the network for their own venture. She was also a regular contributor early on for It's All Been Trekked Before.
Her Meet the Cast was the fourteenth in the series, released as podcast episode 79.
After leaving the show, Amanda's voice from an earlier episode appeared in Show LIV, so she was credited as a guest star in that performance.
Characters
Main Characters
Guest Characters
Commercials
Officer Carmichael in "Desperate Times."
Abby Reynolds in "Get Out" (rerun at Columbus Podcast Festival 2018).
Madge in "Home Is Where the Heart Is."
Abigail Adams in "Alexander."
Mrs. Claus in "War Is Over."
Amber Showers in "May Showers."
Monsoon in "Perfect Weather."
Councillor in "That Sure Is Some Funky French!"
Beth in "Break Out" (rerun at OGP's West Grandview Fringe Festival 2016).
Liz in "Descent Into Chaos" and "Final Four."
Lt. Dyson in "City of the Past, That, In a Way, Exists Forever."
Susan in "Dirt's Women."
Nilar in "False Echo."
Lynette Calvin in "Woman or Fauxman."
Nora in "Old Dogs."
Community content is available under
CC-BY-SA
unless otherwise noted.