Brendan Seamus Talty is an original troupe member of It's All Been Done Radio Hour who left the troupe following the October 2020 show. He was also the Foley artist for the show for the length of his tenure. For a time in 2018, he went by his given first name, Brendan, so some podcast episodes have him credited as Brendan Talty, but he mostly went by Seamus. He was a 2016 Audio Verse Award Finalist for his work on the show.
Seamus comes from a very artistic, musically-inclined family. Growing up, he dreamed of being a Jim Henson's puppeteer and practiced doing voices. He has been doing theater, productions, and musicals since he was seven, including performing as an actor and, on several occasions, working on the set design crew. After college, he got involved with an online TV company working cameras, lighting, and sound. He eventually became the director of operations for the camera department until the company went under. He then got into fire spinning and other types of performing arts.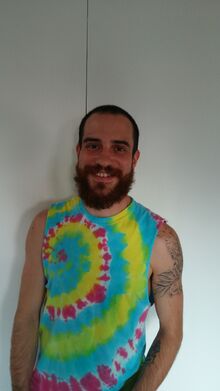 Seamus served as Director and Foley Artist on It's All Been Written's production of A Little Star, produced by It's All Been Done Presents. He also played Solider #1 in the production.
Seamus' Meet the Cast podcast episode was the eleventh of that series, released as podcast episode 64.
Characters
Main Characters
Former Main Characters
Recurring Characters
Guest Characters
Commercials
Bobby in Georgie's Jabs "Podcasters Ricky and Bobby."
Jake in "Magic Hat."
Commercial Narrator (all commercials) for Show XXXVII.
Rando Kid in Splunk "Return of the Splunk."
Jason in Tina's "Hires."
Hansel in "Hansel and Gretel."
Peasant in "Two Princesses."
John Adams in "Alexander."
George in "Space-Wacey."
James in "And the Case of the Missing Hans."
Jack in "Gather 'Round the Fire."
Bruce in 2019 "Stripped Down" (substitute for role).
Gus the Dog in 2019 "The Penislutimate Peril" (substitute for role).
Jeff in "Break Out."
Arnold in "The Road to Cincinnati" and "The Wrong Crowd."
Enon in "The Pilot."
The Techno in "The End of the Beginning."
Lou the Dog in "Grinchmeister."
Theme Song Singer in "Office Party" (substitute for role).
Billy and Stern in "The Tangler & Friends: Enter the Pyro."
Echo Dimension Lt. Kyle in "False Echo."
Jergins in "Who's on Frist"
Community content is available under
CC-BY-SA
unless otherwise noted.