It's All Been Done Radio Hour returned to Comfest for the second year in 2018 for their eleventh non-monthly show. They had previously performed at Comfest in 2016, and were scheduled to return in 2017, but the scheduled day of the festival was rained out. Radio Hour took the stage in the Peace Tent on Friday, June 22nd at 7:30PM. It was a forty-five-minute show, about half the normal length. The show was written and directed by Jerome Wetzel, who also subbed in as Foley artist.
This show was unusual for a special show in that it was made up of wholly new material, no reruns. For continuity purposes, one segment took place prior to the June monthly show and one episode took place after, meaning it wasn't quite in line with the monthly continuity. The podcast episodes corrected that, being released sequentially for the story.
Also irregular, the commercials, which were also new, were performed in the middle of the segments instead of between segments, with three commercials scattered amid the two main episodes.
Joe Morales gave the introduction.
Narrator Chris Allen was unavailable, so Cathy Rinella, host of Midnight Audio Theatre on WCBE 90.5 in Columbus, returned to sub narrate for the second time.
A trailer was released for this show.
Segments
Performers
| Actor | UJ | TTT | Commercials |
| --- | --- | --- | --- |
| Nick Arganbright | Kahkay | Greg | |
| Kristin Green | Neu | | #3 Tina |
| Keith Jackson | Malone | Carl | #3 John |
| Joe Morales | | Carson | #1 Carson, #2 Jerry, #3 Jordan |
| Samantha Stark | Laura | Kim | |
| Shane Stefanchik | M- | Ken | #3 Fred |
| Ryan Yohe | | Nerd | #2 Jake |
Guest Stars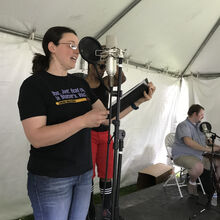 Cathy Rinella served as narrator for the show. She was the seventh guest star and this was her second appearance.
Community content is available under
CC-BY-SA
unless otherwise noted.