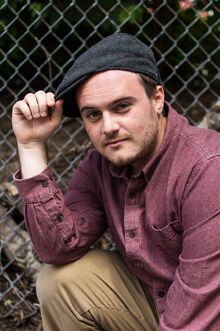 Dallas Ray is an original and current troupe member of It's All Been Done Radio Hour. He sometimes directs the live show, too. He also works on special projects for parent network It's All Been Done Presents, most notably the annual IABD Madness bracket run through the show's website.
Dallas is from Martinsburg, OH, and obtained his BA in Creative Writing from Miami University. His interest in comedy took charge after writing and directing his own one-act play for Miami's student-run theater organization. He also worked with a student and a mentor from Second City in Chicago to direct his first sketch comedy show, The Daily Grind. You can follow his antics on Twitter @DallySalad.
Dallas is also a member of the MadLab theatre Ensemble.
Dallas played Setka in A Little Star, the audio adaptation of the It's All Been Written 2017 contest for It's All Been Done Presents network.
Dallas' Meet the Cast podcast episode was the third of that series, released as podcast episode 16.
Characters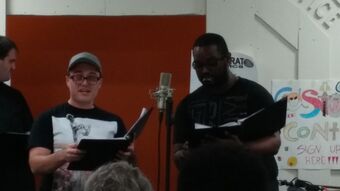 Main Characters
Recurring Characters
Retired Recurring Characters
Guest Characters
Commercials
Judge in Cowboy Joe "Public Defender."
Shane Stefanchik in "Nick & Nathan: Confusion."
Henri in "They're Back!"
Chandler in "A Rufus Carol."
Monk in "Recall My, Maybe."
Jerry in "Cult of B.O.B."
Horace in "Hector My Hedgehog"
Igor in "Frankenstein's Monster."
Coco in "Break Out" (rerun at OGP's West Grandview Fringe Festival 2016).
Tornado in "Perfect Weather."
Warren in "Zanni and the Pall."
Tommy in "Flamingo."
Patrick in "Grinchmeister."
Kid #1 in "The Tangler & Friends: Enter the Pyro."
Commander Buzz in the "March to War" miniseries.
Grupp in "Kids These Days."
Dragon in "The Universe Journey RPG Event."
Barry in "The Dream."
Parna in "A Life Well Lived."
Directing
Dallas was the fourth troupe member to sign on to direct Radio Hour, and is currently part of the rotating directing team. He has directed the following live shows:
Community content is available under
CC-BY-SA
unless otherwise noted.