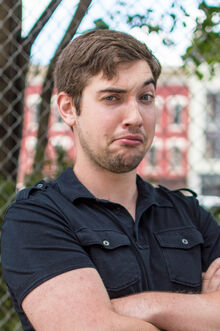 Dan Condo is a member of the It's All Been Done Radio Hour troupe. He was the first guest star from the program, appearing in Show III in a role that would come back repeatedly. After earning a second major recurring character, he was added as an official member in April 2016.
A voice actor with wide range, Dan was named a 2016 & 2017 Audio Verse Award Finalist for his work on the show. He likes to draw, and designed the Packer & Ratcliff t-shirt sold beginning in 2017. He also loves trains.
Dan's Meet the Cast was the sixteenth in the series, released as podcast episode 90.
Characters
Main Characters
Recurring Characters
Retired Recurring Characters
Guest Characters
Commercials
Gus in Georgie's Jabs "The Ringling Brothers."
Kid #2 in Splunk "Splunk Strikes Back."
Salsbury in "Happy Pills Ad."
Ted in "The Body."
Betram in "Gather 'Round the Fire."
Jarvis in "Home Is Where the Heart Is."
Gino in "Pizza Neapolitano."
Samuel Adams in "Alexander."
Sphinx in "Surprise" (with Karen Perta).
Stanley in "Back to Work."
Charles in "Brucie's Angels."
Johan in "Chapter Four" and "Chapter Five."
Steven in "Descent Into Chaos" (substitute casting).
Landon in "The Gathering Storm."
Storm in "Perfect Weather."
Councillor in "That Sure Is Some Funky French!"
Beachgoer in "Get Away."
Onli in "Kids These Days."
O'Toole in "Our Chief Foley."
Moira in "Neu Life."
Bo and The Beholder in "The Universe Journey RPG Event."