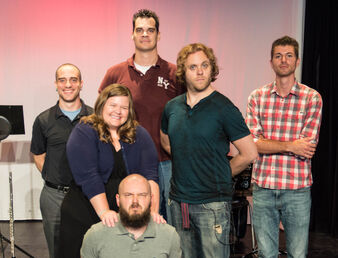 Daniel Kravitz, Chosen One is a segment in It's All Been Done Radio Hour, and it is set in Dimension C. It was the last of the original five segments conceived and written for the show by Jerome Wetzel, and frequently appears third in a four-segment program. It is similar to the television program Buffy the Vampire Slayer in that the title character has been granted superhuman powers and tapped to save the world, guided by a mysterious group of old men. But the characters are situations are very different from that classic series.
Daniel is an unhappy antique store owner in the town of Brightside whose parents are dead. Having inherited their business, Kravitz Antiques, he works with his sole employee and friend, Abby Reynolds. He hates his life.
Then, one day Rufus Reginald Rochester shows up and tells Daniel that he is the Chosen One, meant to defend the world from the supernatural. Rufus is a member of a group called the U.L.P. tasked with overseeing the Chosen Ones, and Daniel is Rufus' fourth such assignment. Daniel likes this mission even less. However, faced with monsters attacking his shop and his town, and fearing for Abby's life, Daniel reluctantly agrees to train with Rufus.
Despite being antisocial and not getting along well with others, Daniel soon forms a group around him. Besides Abby and Rufus these include: Grezit the Green, a monster Daniel beheads and holds captive until Grezit begrudgingly comes to respect him; Ragina, Rufus' estranged niece and a love interest for Daniel; Josh Wallace, a sorcerer who first attacks the group, then seeks to aid it; and Alexis Augustus Armentrout, Rufus' replacement from the U.L.P. when Rufus goes missing.
Behind most of the attacks is a shadowy creature known as the Ultimate Evil. Some claim it is not evil at all, and its given name is Kali. But it is always referred to as an it, never he or she.
The theme song was composed and performed by Nathan Haley, with lyrics by Jerome Wetzel. It was re-arranged for Volume 3 by Nick Arganbright and Nathan Haley, with the rest of the leads now performing alongside Nathan.
Characters
See: list of Daniel Kravitz, Chosen One characters.
Main Characters
Major Recurring Characters
Episodes
See: list of Daniel Kravitz, Chosen One episodes.
Daniel Kravitz, Chosen One is very serial, and the story unfolds in 13-episode volumes.
Volume 1 ran from August 2015 through October 2016 and chronicled Daniel becoming the Chosen One, his relationship with Ragina, and the Ultimate Evil's early attempts to influence Daniel into helping shut down the U.L.P., or kill him.
Volume 2 ran from December 2016 through July 2018, and continued some arcs while introducing several new players. Rufus left the group to find his niece, who fled after her Volume 1 showdown, and was replaced by Alexis. Abby also left to look for Rufus, a decision she did not consult Daniel on, which led to the dissolution of their coupling before it had barely begun. Josh, who had helped out the group in Volume 1, joined more permanently. The antagonists of Volume 2 were the U.L.P. themselves, who had become corrupted. Ragina returned (not long after Rufus and Abby did) to help the group stop Rufus and Alexis' bosses.
Volume 3 premiered in February 2019. A year has passed since the end of Volume 2. The new U.L.P., run by Abby Reynolds, has relocated to a remote ranch. The rest of the group train a class of recruits to restaff the organization while also keeping an eye out for new dangers.
Crossover and Refences
Daniel and Grezit first crossed dimensions in "Daniel & Grezit's Crazy Christmas." A spell took them to Packrat Comics in Packer & Ratcliff's home dimension, where they encountered not only the duo, but a performance of It's All Been Done Radio Hour with actors portraying Cowboy Joe and his execution doctor. Rufus completed the spell and brought them home.
Later, Ratcliff, Larry, and TIM crossed into Daniel Kravitz's dimension in the Packer & Ratcliff episode "The Pursuit of Packer." Grezit the Green was there, but did not seem to remember Ratcliff. Abby, Grezit, Alexis, Stephanie, and Humphrey were in Columbus, Ohio dealing with a zombie outbreak that was being spread through the use of portals. Ratcliff refused to help them. Abby ordered the time machine seized, but a wave of zombies allowed Ratcliff and his friends to escape.
Something akin to the MCU's Guardians of the Galaxy must exist in this universe because Daniel refers to himself as being like "if Drax and Groot had a baby" ("The Search"). There are many other pop culture references in the segment, with singers like Taylor Swift and Billie Eilish getting shout outs.
Script Books
The original scripts are being published by season in paperback and ebook format, available on Amazon.
Daniel Kravitz, Chosen OneVolume 1 Script Book came out in April 2020, one of the first two script books released by It's All Been Done Radio Hour. It included a new introduction by creator Jerome Wetzel, scripts for the first thirteen episodes (with text edited only for typos and formatting, not updated to match spoken dialogue), and a cast list. Photos are included for each episode, and at the beginning and end of the book.
Community content is available under
CC-BY-SA
unless otherwise noted.