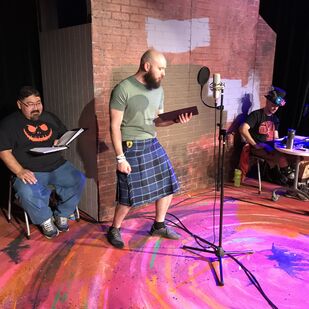 "Flamingo" is the eighth episode of season two of The Topnotch Tangler and the eighteenth episode of the segment overall. It was the segment segment of Show XXVIII.
Written by Jerome Wetzel
Directed by Katie Boissoneault and Dallas Ray
Previous episode: "Flimsy"
Next episode: "Grinchmeister"
The Story
Carson is frustrated that The Flimflam Floozy is still serving as The Topnotch Tangler's sidekick. But there's no time for that! The Terrible Twosome are terrorizing the Dockmaster down at the docks by untying ships, so The Topnotch Tangler and The Flimflam Floozy fly to stop them. (They're also sexist, as so many of the town's villains are, but not racist.)
Tommy and Tony, The Twosome, are excited to see The Floozy involved, as she had dated both of them in the past. The Floozy quickly sides with them against our hero. Teamed up, the three quickly defeat The Topnotch Tangler. However, Tony and Tommy start to fight over The Floozy and take each other out, The Floozy's plan all along, as her betrayal was merely feigned. She assumed The Topnotch Tangler knew that, and Kim plays along.
Commissioner Darling is feeling tired in general, and also of Carson's jealousy of The Floozy, and so decides to send Esposito to meet The Topnotch Tangler, rather than he and Carson going, as they usually do. Carl retreats to Mickey's bar to muse over problems in his relationship with Kam, finding her grating and lacking a spark.
Guest Stars
Trivia
This is actually the second part of a three-part story, the other two installments being "Flimsy" and "The Floozy."
Katelyn Hamilton was unable to make this live performance, and so Colleen Dunne subbed in for the second episode in a row as The Flimflam Floozy.
Evan Weiler was cast as Tommy, but Dallas Ray subbed in at the last minute.
Community content is available under
CC-BY-SA
unless otherwise noted.