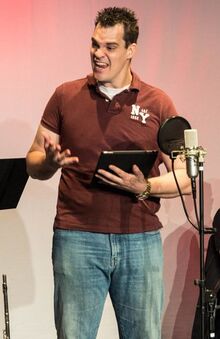 Georgie's Jabs is a commercial segment of It's All Been Done Radio Hour that premiered in early 2016. It is the most often performed such commercial. Starring Georgie Schlotte, who fancies herself 'Gorgeous Georgie,' the lead character hosts a talk show.
The Georgie segments generally involve her interviewing a guest that will be on her show that evening. The guests are usually not famous. It is not clear how they are chosen. The title of each episode is the guest Georgie is interviewing. Sometimes the person's profession is part of the title, sometimes it is just their name.
Georgie seems to exist outside of the established dimensions of the It's All Been Done Radio Hour universe, or else can pull guests from different times and dimensions to come on her show. The details of how this works have not been revealed, but Georgie has spoken with a number of characters that have appeared in various full episodes.
Georgie is an unpleasant person that most people do not find attractive, in either looks or personality. She tends to bully her guests unless they show strong spine, and she hits on the attractive men she interviews. She is foul-mouthed. She often seems to dislike her job, and berates her producer, Jimmy, whether he appears in the segment or not.
This character was created based on Nathan Haley's audition for recurring character Lt. Com. Buzz in Universe Journey. Nathan did not play Buzz, but the voice he used was essentially the same.
Characters
Episodes
Community content is available under
CC-BY-SA
unless otherwise noted.