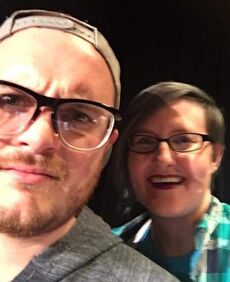 Ghost Buddies is a commercial segment in It's All Been Done Radio Hour. The concept was originally pitched by Dallas Ray and Marianne Dean-Jackson, who also named the characters and starred in the commercials.
The basic idea was for the commercial of a kids' show in which the two lead characters are dead. Because the target audience is children, heavy ideas are avoided in favor of goofy antics, although the revealed origin story of the ghosts is very dark. There is also a devil whom the leads seem unafraid of.
Chris Allen, the narrator for the show, auditioned for the role of announce on this commercial, as it was opened up to the full cast to get a different style than the regular narration. Kristin Green composed and performed the music.
Characters
Reboot
In episode 3, the show was rebooted with a darker, yet more liberal, tone. Houston, The Announcer, and The Devil all made appearances. The rebooted series starred:
Episodes
| # | Title | Writer | Director | Live Show | Podcast |
| --- | --- | --- | --- | --- | --- |
| 1 | "New Series Promo" | Jerome Wetzel | Katie Boissoneault & Nick Arganbright | Show XXIV | C46 |
| 2 | "Halloween Special" | Jerome Wetzel | Katie Boissoneault & Dallas Ray | Show XXVIII | C59 |
| 3 | "Reboot" | Jerome Wetzel | Nick Arganbright | Show XL | |