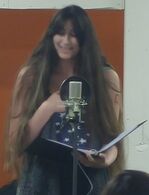 Granny Gonzo is a character in It's All Been Done Radio Hour.
Granny Gonzo is a (barely) middle-aged woman who used to be a porn star and now owns a bakery. In her first career, she is best known for being instrumental in the creator of gonzo-style videos. The toil of porn aged her very quickly, leaving her looking much older than she is. But it also made her very rich, giving her the freedom to be her own boss and run a store. She is friendly to the neighborhood children.
Granny, played by Katelyn Hamilton, originated in the Pornstar Detectives episode "And the Case of the Missing Youth," performed as part of Show III. In that same episode, Granny did a commercial segment to promote her bakery, in particular her "Twin Twinks" (her version of Twinkies). The commercial was released with the regular segment as podcast episode 9.
Katelyn reprised the role for a commercial segment in Show XV, more than a year later. This time, she was selling special cookies she had created for the MadLab production of The Star. The Star was a real show, and It's All Been Done Radio Hour wanted to promote it to support their host site. It was released on the podcast as C9.
When Katelyn decided to leave the show to move across the country, one more commercial was written to bring the character back. This time, Granny appeared in a Georgie's Jabs commercial as the guest in Show XXVI. Unfortunately, Katelyn had car trouble and was unable to attend the performance. Kristin Green played her instead. It was released on the podcast as C52.
Granny Gonzo was revived and again played by Kristin Green in 2019. Her "Twin Twinks" commercial was part of IABD Classic 2. In IABD Roulette that May, a short focused on Granny as she dealt with the zombie apocalypse.
Community content is available under
CC-BY-SA
unless otherwise noted.