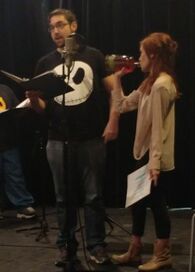 Halftime Report is a commercial segment of It's All Been Done Radio Hour that premiered in early 2017. It stars Dave and Cheryl, co-workers who don't get along very well due to Dave's misogyny and Cheryl's alcoholism. After attending rehab, Cheryl is in an even worse mood.
Dave and Cheryl comment on the segments of the show that were just performed. In this way, they are meta. A handful of other characters in the show have also broken the fourth wall, most notably Packer and Ratcliff, although Dave and Cheryl are the only two written specifically to do that full-time.
This commercial is the only one that features a halftime buzzer instead of the normal commercial tones, though sometimes it contains both.
Due to illness, Dan missed #5 "Bad Rapping." It was quickly rewritten to be between Cheryl and a character named Dan, played by Ryan Yohe.
Characters
Episodes
| # | Title | Writer | Director | Live Show | Podcast |
| --- | --- | --- | --- | --- | --- |
| 1 | "Valentine's Day 2017" | Jerome Wetzel | Chase McCants | Show XX | C31 |
| 2 | "Not Quite Halftime" | Jerome Wetzel | Nick Arganbright & Katie Boissoneault | Show XXII | C38 |
| 3 | "Cheryl's Back" | Jerome Wetzel | Nick Arganbright | Show XXVII | C56 |
| 4 | "Seven Days Sober" | Jerome Wetzel | Chase McCants | Show XXXII | C68 |
| 5 | "Bad Rapping" | Jerome Wetzel | Nick Arganbright | Show XXXIX | |
| 6 | "Dave's Back" | Jerome Wetzel | Chase McCants | Show XLII | |
| 7 | "Date Night" | Jerome Wetzel | Samantha Stark | Show XLIV | |