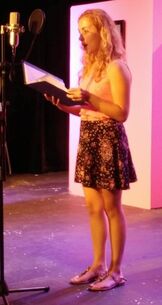 Holly Harper is a commercial segment of It's All Been Done Radio Hour that premiered in early 2016. It was the first commercial created after the initial pair that ran through the early shows, and the first to be released as a bonus commercial on the podcast.
The commercial follows the titular character, who drops out of school and moves across the country to follow her boyfriend, Blake. To pay for a return to education, she decides to run Blake's aunt's... quaint... business. But things keep going wrong, many of them because of Blake. Holly never seems to blame him, and maintains a positive outlook, no matter how bad things get.
Most commercials are monologues for Holly, although we have occasionally heard others interject. One commercial in the series is mainly Blake and his 'employee,' Trixie, with Holly only coming in at the end.
Characters
Main Character
Supporting Characters
Referenced-But-Not-Heard Characters
Lafawnda, a transexual, drug-addicted prostitute that Holly hires to help out in her store.
Playa Shag, Lawfawnda's pimp who does not appreciate Holly's interference.
Episodes
| # | Title | Writer | Director | Live Show | Podcast |
| --- | --- | --- | --- | --- | --- |
| 1 | "Holly Harper Moves to Fairfield" | Jerome Wetzel | Jerome Wetzel | Show VII | C1 |
| 2 | "Holly Harper Places an Ad" | Jerome Wetzel | Jerome Wetzel | Show VIII | C2 |
| 3 | "Holly Harper and the Generous Donors" | Jerome Wetzel | Jerome Wetzel | Show XI | C7 |
| 4 | "Holly Harper's Boyfriend Gets a Job!" | Jerome Wetzel | Jerome Wetzel | Show XV | C18 |
| 5 | "Holly Harper Hires Help" | Jerome Wetzel | Chase McCants | Show XVI | C23 |
| 6 | "Holly Harper Ends the Sale" | Jerome Wetzel | Chase McCants | Show XIX | C28 |
| 7 | "Blake's Dispensary" | Jerome Wetzel | Nick Arganbright & Katie Boissoneault | Show XXII | C37 |
| 8 | "Holly Harper Has a Roommate" | Jerome Wetzel | Dallas Ray | Show XXVI | C54 |
| 9 | "Holly Harper Goes Online" | Jerome Wetzel | Chase McCants | Show XXXII | C69 |
| 10 | "Holly Harper Gets Busted" | Jerome Wetzel | Dallas Ray | Show XXXV | C77 |
| 11 | "Holly Harper Wears Orange" | Jerome Wetzel | Nick Arganbright | Show XXXVI | |
| 12 | "Holly Harper Trick or Treats" | Jerome Wetzel | Nick Arganbright | Show XLI | |
| 13 | "Holly Harper: Free at Last" | Jerome Wetzel | Nick Arganbright | Show XLV | |
| 14 | | Jerome Wetzel | | | |