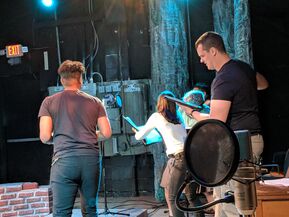 It's All Been Done Radio Hour performed a second Classic show of re-runs at MadLab on March 9th, 2019 around 10PM, following the home theatre's performance of Happy Pills. It was a sixty-minute show, a little shorter than the normal monthly length. Creator Jerome Wetzel directed and did the sound effects. The complete show is available exclusively to Patreon donors.
Each piece in the Classic show was chosen for its relevance to current plotlines in the monthly shows. Universe Journey sought to remind audiences of why Kahkay hates M-. Daniel Kravitz, Chosen One provided a backstory for a new villain in Volume 3. The Topnotch Tangler present Kim's former best friend, Sam, who will soon return as a foe.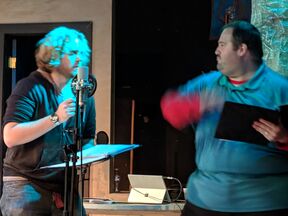 The commercials were similarly important. IABDPR was relaunched in this rerun show before returning with new episodes to the monthly performances. Granny Gonzo also returned prior to her starring turn in a short during the May Roulette show.
As always, tweaks were made to the segments and several parts had substitute performers. Most notably, the characters of Lt. Dyson and Lt. Riley were combined into one woman named Lt. Riley in Universe Journey. One of the monsters in Daniel Kravitz, Chosen One switched genders, so it was siblings attacking instead of the three brothers in canon. Additionally, Keith Jackson played a different monster sibling than the first time around due to an error by Jerome.
A trailer was released for this episode.
Segments
Performers
The show was narrated by Chris Allen, who also played Street Person #1 in Universe Journey.
| Actor | UJ | TTT | DKCO | Commercials |
| --- | --- | --- | --- | --- |
| Nick Arganbright | Kahkay | Carson | Jeff | |
| Kristin Green | Jane | Julie | | #2 Granny Gonzo |
| Nathan Haley | Who | | Daniel | |
| Keith Jackson | Jamieson | Carl | Razzle | |
| Karen Perta | Riley | | Frazzle | #1 Chai |
| Samantha Stark | Tokaladie / Street Person #2 | Kim | | #1 Kamomile |
| Shane Stefanchik | M- | | Rufus | |
| Ryan Yohe | Foley | The Sting | Grezit | #1 Chef Jimmy |
Suggested Music
Cast member Keith Jackson suggests songs that would go well with these episodes. The music was not used in the show, nor were any rights obtained.
| Song | Artist | Relevant Segment | Notes |
| --- | --- | --- | --- |
| "Forever" | Siouxsie and the Banshees | Universe Journey "City of the Past That, in a Way, Exists Forever" | Kahkay, M-, and Foley are sent back in time to a place that Kahkay wishes he could stay forever. |
| "Know Your Chicken" | Cibo Matto | IABDPR "Rubbing Chicken" | Sister Talk asks Chef Jimmy about marinating chicken... or do they? |
| "The Cult of Ray" | Frank Black | The Topnotch Tangler "The Sting" | The Topnotch Tangler and Carson try to thwart The Sting Ray, much to Commissioner Darling's surprise. |
| "Triple Trouble" | Beastie Boys | Daniel Kravitz, Chosen One "Three's Company" | Daniel Kravitz, Rufus, and Grezit are beset by a trio of murderous demons. |
Community content is available under
CC-BY-SA
unless otherwise noted.