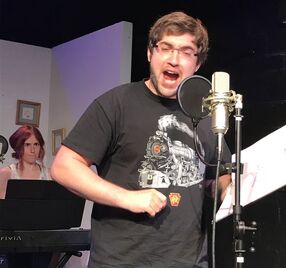 Itsahlbend Theatre is a segment in It's All Been Done Radio Hour. It was the ninth segment created for the show by Jerome Wetzel, premiering in February 2018. It is meant to showcase the varied voice talents of a troupe member who did not yet have a lead role in any segment, Dan Condo. A snow storm caused Dan to miss the first performance, and Shane Stefanchik filled in at the last minute.
The premise of Itsahlbend Theatre is to provide a twist on classic tales, such as fairy tales and fables. In each, the host tells his version of the story, stepping into a lead role himself. His moral or message, given at the end, is never what the original was known for.
Each episode has several bits of music, including the original theme song. The theme and any new bits are composed and performed by Kristin Green. She sometimes uses non-copyrighted pieces as well.
Characters
Main Characters
Sir Hubert Donald Rattigan Fievel Norwahl, Esquire, III played by Dan Condo. Hubert is pretentious, pompous, and always knows best. Hence why he is bringing you his own take on tales you're already familiar with.
Episodes
| Overall | Season | Title | Writer | Director | Live Show | Podcast |
| --- | --- | --- | --- | --- | --- | --- |
| 1 | 1 | "The Grasshopper and the Ants" | Jerome Wetzel | Nick Arganbright | Show XXXI | 149 |
| 2 | 2 | "Hansel and Gretel" | Jerome Wetzel | Chase McCants | Show XXXIV | 164 |
| 3 | 3 | "The One Skillful Brother and His Other Three Mildly Talented Siblings" | Jerome Wetzel | Nick Arganbright | Show XLI | |