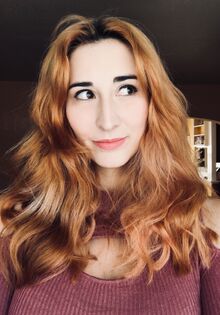 Katelyn Hamilton was a troupe member of It's All Been Done Radio Hour from its inception in July 2015 through December 2017. She commuted from Seaford, Delaware, a nine-hour drive each direction! She left the troupe when she decided to relocate to the Seattle, Washington area.
Katelyn began practicing voice acting back in 2007, and has years of fan and freelance work under her belt. When she's not actively pursuing other roles and jobs, she maintains a YouTube channel.
Katelyn's Meet the Cast was the twelfth in the series, released as podcast episode 69.
Characters
Recurring Characters
Guest Characters
Commercials
Wanda the Witch in "Wanda's Wand" and "State of Disbelief."
Anna in "Desperate Times."
Josefina in "Pizza Neapolitano."
Tori in "Three's Company."
Beth Shepard in "Break Out."
Commander Lady in "Trapped On the Bridge."
C'mon Ambassador Tizz in the "March to War" miniseries.