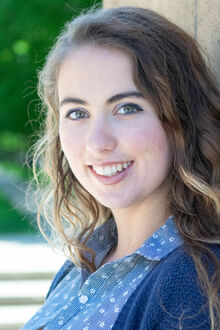 Katie Boissoneault is an original and current troupe member of It's All Been Done Radio Hour. Katie was a 2016 Audio Verse Award Finalist for her work in Radio Hour. She also serves in Community Outreach for our parent network, It's All Been Done Presents, which includes developing surveys for live show programs.
Katie is a theatre and film studies major at Miami University with a minor in Fashion Design.She is on track to graduate during the spring of 2019. She has a job on campus doing set construction and assistant directs for the Great Lakes Visual and Performing Arts Academy in her hometown of Sandusky, Ohio during the summer.  In her free time, she enjoys traveling, reading, shopping, watching makeup tutorials, and anything to do with the performing arts.
Katie's Meet the Cast episode was the seventh in the series, released as podcast episode 42. She also provided opening and closing narration for the 2019 It's All Been Written audio production, Sun and Moon.
Characters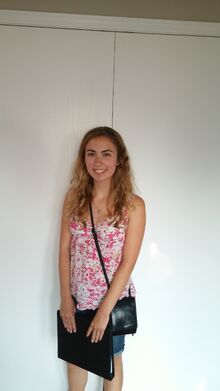 Main Characters
Recurring Characters
Guest Characters
Commercials
Execution Doctor in Cowboy Joe "Electric Chair."
Jackie in Georgie's Jabs "Jackie With the U.S. Treasury"
Monica in Tina's "Tina's Attires."
Danielle in "IABD Dating App."
Katie in "Anniversary Break."
Customer in Packer & Ratcliff "Ratcliff Is Solicited" (rerun in IABD Classic).
Wanda the Witch in "The Body" and "A Family Affair."
Narrator for "Pit of Despair."
Fran in "Cult of B.O.B."
Customer in "Ratcliff Is Solicited."
Dot in "The Knight Shift."
Angelica Schuyler Church in "Alexander."
Lisa in "The Pursuit of Packer."
Geneva Pines in "The Trial of Bruce Jenner."
Sue Ellen in "Barbara Jean."
Lt. Carson in "Signs of the Sexist" (rerun in IABD Classic)
Lacy in "Turtle Township"
The Tangler in "The Tangler & Friends: Enter the Pyro"
Ahna in "A Life Well Lived"
Directing
Katie temporarily joined our team of directors, co-directing shows to hone her skills. The shows she worked on are:
Community content is available under
CC-BY-SA
unless otherwise noted.