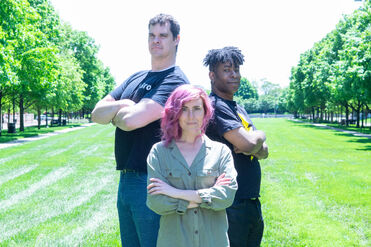 Morning Show is a segment of It's All Been Done Radio Hour, and is set in Dimension AAA. It was the tenth segment created by Jerome Wetzel for the show, premiering in June 2018. This is the program's attempt at a fast-paced, message-based series, with the staff of a morning radio show injecting news into their comedy programming. A bit meta, no?
The producer is Shelly Meyers, the idea person and driver of the format change. She has obvious chemistry with the show's lead Pat Shock, whom she also knows how to talk into doing what she wants, appealing to his ego. Pat's co-host is goofy Gus Goodall, who is not happy with the changes Shelly is making.
And then, on the other side of the country, a contained zombie apocalypse strikes.
There is no official theme song, but the small music intro was composed and performed by Kristin Green.
Characters
See: list of Morning Show characters
Main Characters
Shelly Meyers played by Kristin Green. Shelly is driven and smart. Given the opportunity to produce the flagship morning show for a brand-new network, she took initiative and unilaterally changed the format. If it works, she has a bright future. If not...
Pat Shock played by Keith Jackson. Pat is laid-back, and while he is driven by ego and wants to be a household name, that's far from his only motivating factor. He believes in complete honesty with those he works with.
Gus Goodall played by Nathan Haley. Gus is the goofy co-host. He is not at all amused with Shelly's behavior, blaming her, rather than Pat, for the change moving forward.
Recurring Characters
Brooks Dylan played by Ryan Yohe. Brooks is a demanding boss and owner of the station. His business dealings might be a little shady. He does admire Shelly, though, even as he wants to control her.
Episodes
See: list of Morning Show episodes.
Season One ran from June 2018 through December 2020, for ten episodes, plus a Packer & Ratcliff crossover and a non-canon special.
Community content is available under
CC-BY-SA
unless otherwise noted.