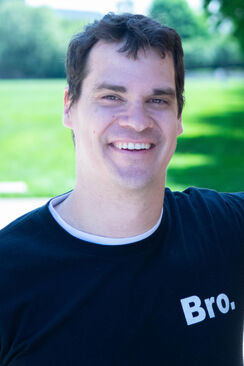 Nathan Haley is an original and current troupe member of It's All Been Done Radio Hour, although he did not appear in the first live show, beginning his run in Show II. He also composed the opening theme for the entire show, as well as all the segment theme songs (for those that have full theme songs). Nathan was a 2017 Audio Verse Award Finalist for the show. He also played the coach in the 2019 It's All Been Written audio adaptation, Sun and Moon.
Nathan graduated from Otterbein College with a dual Bachelor's Degree in Music and Composition, and has been pursuing an Early Childhood Education degree from Ashland University with an emphasis on special education and music therapy. He is a ParaPro / Teacher Substitute, a music instructor at Music & Arts and Guitar Center, a One-on-One Aide, and a manager at his father's restaurant, Todds Pizza. 
Nathan's Meet the Cast was the second in the series, released as podcast episode 10.
Characters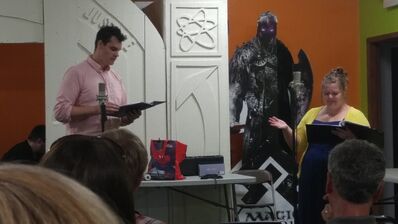 Main Characters
Recurring Characters
Retired Recurring Characters
Guest Characters
Commercials
Nick Arganbright in "Nick & Nathan: Confusion."
Kyle in Trent Tushner "Butt It's the Holidays."
Nathaniel in Tina's "Fires."
Dr'Foog in "...and Sprinkles On Top"
Ant Extra in "The Grasshopper and the Ants."
Jonathan in "The One Skillful Brother and His Other Three Mildly Talented Siblings."
Guard in "Hector My Hedgehog"
Frankenstein's Monster in "Frankenstein's Monster."
Billy in "Creature From the Black Lagoon"
Thomas Jefferson in "Alexander."
Spot in "War Is Over" and "Hurry Up Already."
Bailiff in "The Trial of Bruce Jenner."
Jordan in "Gather 'Round the Fire."
Secret Service (non-speaking) in 2019 "The Bigly, Huuuge Mess."
Phillip in "Oh, Brother."
Bartender in "Tea Party."
Robert in "Rhyme and Rhyme Again."
Bad Baby in "Baby Blues."
Colin in "The Devil's Triangle."
'Be Right Back' / theme song singer in "The Tangler & Friends: Enter the Pyro"
Rino in "Dirt in Your Eye."
Ree in "Who Who?"
Larry in "Neu Life."
Hamrkut in "The Universe Journey RPG Event."
Spot in "Sleigh Ride."
The Slantbeast in "Spring Break."
Yeez in "The Conundrum With C'mons" (rerun in IABD Classic).
Weigo in "A Life Well Lived."
Community content is available under
CC-BY-SA
unless otherwise noted.