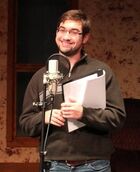 Pymer Labs is a research and development facility in Tipp Town and across multiple dimensions, as referenced in The Topnotch Tangler and Packer & Ratcliff segments of It's All Been Done Radio Hour. Some of the greatest and most eccentric minds work there, such as Dr. Oscar Meyer, who works on improving the human body. A wide range of research fields are represented. It was overseen by CEO Lucy Funke, but in late 2018, Kamderly Denson became CEO.
Like many scientific facilities, Pymer relies on private donations to keep their doors open. They reward their donors by giving them access to technology before it becomes publicly available. The lab produces so much that they are able to offer a 'gadget of the month' club for their most exclusive of donors, such as James Packer and Nicholas Ratcliff.
Commercials
Besides being references in The Topnotch Tangler and Packer & Ratcliff, Pymer Labs has been the subject of several commercial segments.
Reruns
"Damage Control" was rerun at IABD at The Nest with Nick Arganbright playing Linus Funke.
Community content is available under
CC-BY-SA
unless otherwise noted.