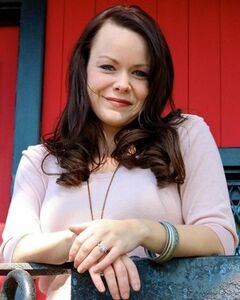 Shannon Marie Watts was one of the script editors for It's All Been Done Radio Hour from mid-2017 through late 2018. She began doing this shortly after she moved from Columbus to Washington D.C. While living in Columbus, she guest-starred many times, including playing a major recurring role. She returned as a virtual guest star from out-of-state during the coronavirus outbreak of 2020, when the show temporarily moved online.
Shannon is a graduate of CSCC and Michigan State University with degrees in Photography and English Literature. She is known for her dedication to the local film community, both in front of and behind the camera. She has also been an extra in a number of television and film projects.
Because she continued to be involved in the show after leaving town, Shannon was featured in the twenty-second episode of Meet the Cast, released as podcast number 130.
Characters
Recurring Characters
Guest Characters
Commercials
Trixie in Holly Harper "Blake's Dispensary."
Shannon in "Quarantine Filler."
Delia Duck in "Maisy Meets Her Maker."
Linda in "And the Case of the Missing Career."
C'mon Ambassador Tizz in "March to War Part VI: C'mon Conclusion" (substitute casting).
Street Person #2 in "City of the Past That, In a Way, Exists Forever."
Larz in "Sacrifice."
Community content is available under
CC-BY-SA
unless otherwise noted.