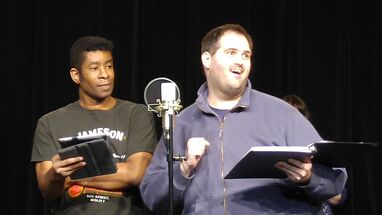 Show IX of It's All Been Done Radio Hour was performed at MadLab theatre in Columbus, Ohio on Saturday, March 12th, 2016 at 3:30PM. It was written and directed by Jerome Wetzel. It was the first monthly show at MadLab, with the previous host site being Packrat Comics.
The script for this show was written before the decision to move was made. Thus, all three segments are continuing stories from previous episodes and there is no restart of the segments.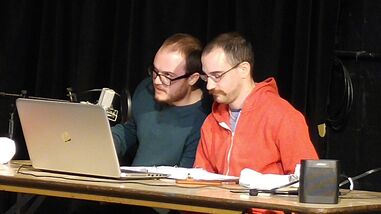 A new commercial, Georgie's Jabs, did premiere, though, and would become one of the program's most-often performed bits. As would happen from time to time, the subject of Georgie's interview would pop up elsewhere in the show, although this one, The Wholesome Honey, while pre-planned for The Topnotch Tangler, was still months away.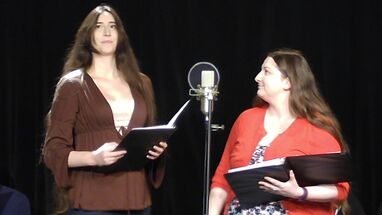 Returning guest stars Dan Condo and Virgil Von Hartzel would debut the characters Graves and Simms this month in Pornstar Detectives. Following the show, they were promoted to Associate Troupe Members, essentially a part-time label that made them part of the troupe, but did not guarantee them parts every month. Original troupe member Addie Peelle was also made an Associate due to her busy high school schedule, and Katelyn Hamilton went to this status because driving every month from several states away was getting difficult, shifting to a part-time status.
In the episode of Pornstars, Amber and Staci connected on a high five, the only time they would do so until the final miniseries.
Cast member Chase McCants took this month off because his band, So Long, Stargazer, was getting ready to release their album Look Up. Nathan Haley filled in as Lt. Who.
Joe Morales read the intro.
Segments
Performers
This show was narrated by Chris Allen.
| Actor | UJ | TSD | PD | Commercials |
| --- | --- | --- | --- | --- |
| Nick Arganbright | Kahkay | Zak | | |
| Katie Boissoneault | Tokaladie | Courtney | | |
| Nathan Haley | Who | Steven | | #2 Georgie |
| Katelyn Hamilton | Tizz | Karyn | | |
| Amanda Iman | Awshucks | | Amber | |
| Keith Jackson | Jamieson | | Barry | |
| Joe Morales | | | | #1 Jonas, #2 Jimmy |
| Wendy Parks | | | | #2 Honey |
| Dallas Ray | Buzz | Jon | Bruce | #1 Ratcliff |
| Samantha Stark | Nixon | | Staci | |
| Shane Stefanchik | M- | | | |
| Seamus Talty | Foley | Randy | | |
| Ryan Yohe | Janice | Spencer | | |
Absent troupe members: Chase McCants, Addie Peelle
Guest Stars
Dan Condo played Detective Graves in Pornstar Detectives. He was the first guest star and this was his third appearance, his last guest spot before being promoted to Associate Troupe Member.
Marianne Dean Jackson played Chase in Pornstar Detectives. She lip-synced along to cast member Chase McCants singing the theme song on a recording. This was a role she'd play many times, and it was later ret-conned as Marianne, a crazed fan who eventually kidnapped Chase and replaced him. She was the fourth guest star and this was her first appearance.
Virgil Von Hartzel played Detective Simms in Pornstar Detectives. He was the third guest star and this was his fourth appearance, his last guest spot before being promoted to Associate Troupe Member. Virgil would later return to guest status in 2019.
Community content is available under
CC-BY-SA
unless otherwise noted.