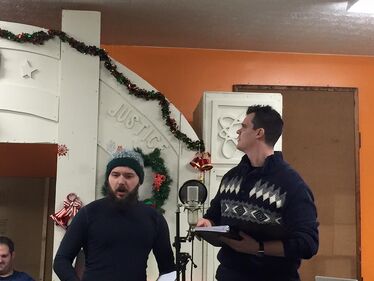 Show VI of It's All Been Done Radio Hour was performed at Packrat Comics in Hilliard, Ohio on Saturday, December 12th, 2015 at 7PM. It was written and directed by Jerome Wetzel.
The program titled this show the "2015 Christmas Show," and all segments were holiday-themed. While some efforts have been made to repeat a holiday special, subsequent years haven't been as committed to the holiday as this performance.
This show forwent the traditional intro and outro. Instead, there was a framework story in which fictional characters Daniel Kravitz and Grezit the Green from Daniel Kravitz, Chosen One were accidentally sent to Packrat Comics because of a spell gone wrong. They were 'forced' to host the show, segments and commercials, until, at the end, they returned back home.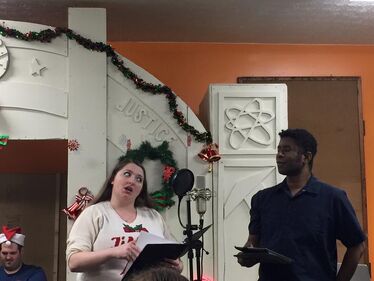 This live show concluded the Cowboy Joe commercial arc pretty definitively, though Joe has appeared a few more times in various ways.
Packer and Ratcliff, who generally had the second commercial slot in the early days, interacted with Daniel and Grezit, rather than having their own stand-alone spot.
This was Ryan Yohe's last appearance as a guest star, being promoted to troupe member following this show.
Cast member Wendy Parks, still Wendy Webb at this time, missed the performance because for her bachelorette party. She would be married and change her name prior to the podcast launch and the next live show.
The crowd at this show was so large, filling the small room where it was performed, that Radio Hour began looking for another venue following this performance. The monthly show would only stay at Packrat Comics for two months in 2016 before moving to MadLab theatre.
Segments
Performers
This show was narrated by Chris Allen.
| Actor | UJ | TTT | PD | framework/commercial |
| --- | --- | --- | --- | --- |
| Nick Arganbright | Kahkay | Greg | | |
| Katie Boissoneault | Tokaladie | | | executioner |
| Nathan Haley | | | | Daniel |
| Katelyn Hamilton | | Floozy | Elsa | |
| Amanda Iman | Awshucks | | Amber | |
| Keith Jackson | | Carl | | Joe |
| Chase McCants | Who | | | Packer |
| Joe Morales | Chris | Carson | Mark | |
| Addie Peelle | Fitzy | | Fran | Jonas |
| Dallas Ray | | Frank | Bruce | Ratcliff |
| Samantha Stark | | Kim | Staci | |
| Shane Stefanchik | M- | | Larry | |
| Seamus Talty | Foley | | James | |
Absent troupe members: Wendy Parks
Guest Stars
Virgil Von Hartzel played Evil Santa in The Topnotch Tangler and Hans in Pornstar Detectives. He was the third guest star and this was his second appearance,
Ryan Yohe played Grezit the Green in the framework story. He was the second guest star and this was his third appearance.
Community content is available under
CC-BY-SA
unless otherwise noted.