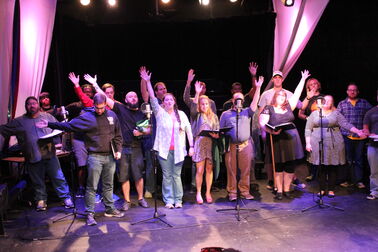 Show XVI of It's All Been Done Radio Hour was performed at MadLab theatre in Columbus, Ohio on Saturday, October 8th, 2016 at 3:30PM. It was written by Jerome Wetzel. It was directed by Chase McCants , the first time anyone other than Jerome directed the show. From this time on, Jerome would only direct special performances, with cast members handling monthly shows.
This show also marks the first time narrator Chris Allen plays a character, appearing as Lt. Who's mother, Yaa, in Universe Journey. Following the pattern of Who being a female voiced by a male performer, all members of Who's species would be voiced by an opposite gender actor.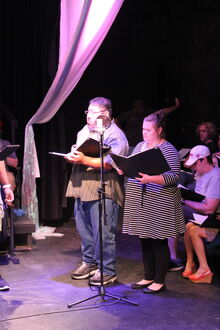 The first volume of Daniel Kravitz, Chosen One came to an end, tying up the initial Ragina storyline. DKCO has planned arcs with finite plots, divided in an orderly way into pieces of story, and did even from this early point. Other segments are divided into seasons arbitrarily, often after the fact, rather than planned in such a specific manner.
The final Packer & Ratcliff commercial premiered this month, with the duo getting their own full-length segment beginning the following show. The commercials are considered Season One of the program. In this ad, Stephen Woosley, a MadLab ensemble member, played a version of himself who had been previously name dropped, similar to Nikki Smith's prior appearance.
This show also contained the first part of a four-episode story that would span three segments. This initial offering, The Topnotch Tangler "Hot Dog," introduced villain Nathan Chestnut, who would feature in all three parts of the November monthly show, subtitled The Nathan Event. This episode of TTT was listed as "Genesis" in the program, later renamed to fit the hot dog theme of next month's segments.
October was also the last time individual segments were listed in the program. From here on out, not only would the program and advertising materials not reveal which segments would be performed in a given month, the 'previously on's in the program would be for every program to further obscure what audiences were about to see.
Segments
Performers
This show was narrated by Chris Allen, who also played Yaa Grappa in Universe Journey.
| Actor | UJ | DKCO | TTT | Commercials |
| --- | --- | --- | --- | --- |
| Nick Arganbright | Kahkay | | | |
| Katie Boissoneault | Tokaladie | Wanda | | #2 Holly |
| Dan Condo | | | Meyer | |
| Nathan Haley | Ree | Daniel | | |
| Amanda Iman | Awshucks | Ragina | | |
| Keith Jackson | Jamieson | | Carl | |
| Chase McCants | Who | | | #1 Packer |
| Joe Morales | Taa | | Carson | |
| Wendy Parks | Hee | Abby | | |
| Dallas Ray | | | | #1 Ratcliff |
| Samantha Stark | | | Kim | |
| Shane Stefanchik | M- | Rufus | | |
| Seamus Talty | Foley | Josh | | |
| Virgil Von Hartzel | | | Nathan | |
| Ryan Yohe | Nee | Grezit | | |
Absent troupe members: Katelyn Hamilton, Addie Peelle
Guest Stars
Zane Sexton was the eighteenth guest star and this was his first appearance. He played Officer Ryan in The Topnotch Tangler.
Stephen Woosley was the nineteenth guest star and this was his first appearance. He played Mickey in The Topnotch Tangler and Stephen Woosley in Packer & Ratcliff.
Community content is available under
CC-BY-SA
unless otherwise noted.