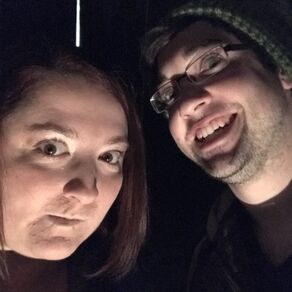 Show XXIX of It's All Been Done Radio Hour was performed at MadLab theatre in Columbus, Ohio on Saturday, November 11th, 2017 at 5:30PM. It was written and directed by Nick Arganbright , the first Radio Hour show completely written by someone other than Jerome Wetzel , who just did some editing on Nick's script.
This show was unusual in that it featured one long Universe Journey story in which the UJ characters played through other segments as role-playing games (RPG) with Lt. Com. Tokaladie serving as game master. As such, the entire tale is considered cannon only to UJ, not the other segments the UJ characters play in. Instead of commercials, there are small UJ scenes.While it is not explained in cannon how they came to know the other characters, there has been encounters between Packer and Ratcliff and the UJ crew, so one might assume that accounted for the crossover.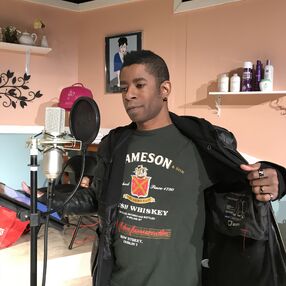 Within this conceit, the regular voice actor for the character presented reprised their role but were actually playing a new version of themselves as played by a UJ character. For instance, in the first story, Chase McCants played Coco, but he wasn't really Coco. He was Admiral Jamieson pretending to be Coco. Tokaladie was all of the "non-playable characters" in the RPG game. Certain UJ characters rotated in and out of the game between segments.
The whole show was released as a single podcast episode, #140.
Segments
As mentioned, there was really only one segment: Universe Journey "The Universe Journey RPG Event." However, within that larger framework, the following segments were announced (though not counted as episodes within their own series and not released separately).
Performers
Chris Allen narrated the show. During the four segments, he did so as Lt. Com. Tokaladie, only returning to standard narrator during the framework story.
| Actor | TSD | DKCO | TTT | UJ | UJ Framework |
| --- | --- | --- | --- | --- | --- |
| Nick Arganbright | | | | Jamieson as Kahkay | Kahkay |
| Katie Boissoneault | M- as Courtney | | | Who as Tokaladie | Tokaladie |
| Dan Condo | | Tokaladie as Bo | Tokaladie as The Beholder | | |
| Kristin Green | | | | Kahkay as Neu | Neu |
| Nathan Haley | | Jamieson as Daniel | | Hamrkut | Ray |
| Keith Jackson | | | Jamieson as Carl | Jamieson | Jamieson |
| Chase McCants | Jamieson as Coco | | Who as Comptroller | Neu as Who | Who |
| Joe Morales | | Ray as Alexis | M- as Carson | | |
| Wendy Parks | | M- as Abby | | | |
| Dallas Ray | Ray as Jon | | | Tokaladie as Dragon | |
| Samantha Stark | | Tokaladie as Jane | Kahkay as Kim | | |
| Shane Stefanchik | | | | Foley as M- | M- |
| Seamus Talty | Who was Randy | | | M- as Foley | Foley |
| Ryan Yohe | | Neu as Grezit | | | |
Absent troupe members: Katelyn Hamilton, Amanda Iman, Virgil Von Hartzel
Guest Stars
Karen Perta - Karen was the twenty-eighth guest star and this was her sixth and final appearance as a guest star, as she was promoted to troupe member the following month. She played Neu as Lucy in The Topnotch Tangler segment.
Matt Schlichting - Matt was the thirty-eighth guest star and this was his second appearance. He played Pool Man in The Topnotch Tangler segment.
Jack Schultz - Jack was the forty-third guest star and this was his first appearance. He played Glapkut in the Universe Journey segment.
Suggested Music
Cast member Keith Jackson suggests songs that would go well with these episodes. The music was not used in the show, nor were any rights obtained.
Song
Artist
Relevant Segment
Notes
"Roll Right"
Rage Against the Machine
whole show
I have no idea what Zach's really talking about in this song, but phrases like "Roll right! Roll call!" and "We gotta send 'em to the seventh level!" make it seem like they could be RPG-ing.
"Let's Pretend"
Tree of Snakes
whole show
Refrain: "Let's pretend that we were never ever friends!"
"The Individual"
Vas DeFrans
whole show
"...the entire definition of who I am can't be taken away so I stay an individual with one soul. An individual whose life will not be controlled.

...You ask me who am I, but who are you?"

"Trogdor"
Homestar Runner
Universe Journey "Roll of the Dice"
UJ finally encounters a dragon in this scenario. This song was born from an episode of Strongbad E-mails, in which Strongbad demonstrates how to draw a dragon named Trogdor the Burninator. You might also recall that Andrew referenced Trogdor in the D&D campaign he ran for the Scoobies in the final season of Buffy the Vampire Slayer.
"Fun & Games"
Barenaked Ladies
whole show
The talk of war and fooling the audience made this perfect.
Community content is available under
CC-BY-SA
unless otherwise noted.