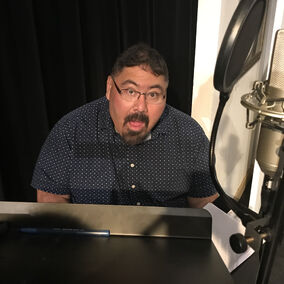 Show XXXVIII of It's All Been Done Radio Hour was performed at MadLab theatre in Columbus, Ohio on Saturday, August 11th, 2018 at 5:30PM. It was written by Jerome Wetzel, Kristin Green, Samantha Stark, and Nick Arganbright and directed by Chase McCants.
The majority of Show XXXVIII was the hour-long Universe Journey special "Universe Journey: The Musical." Work began on the musical in late 2017, when Jerome, Kristin, and Nick gathered to map out the songs based on the story Jerome had set. It was at this point that it was decided to have Wendy Parks handle Who's singing (despite Chase's excellent singing voice) and allow M- to slip into a different vocal flow. As 2018 began, Kristin set to work composing the songs, while Jerome wrote out the script and sent pieces to Kristin each time he got through a scene with lyrics. Sam later came in to help with lyrics on a couple of the songs.
By late winter of 2018, Jerome began to worry about lining up the monthly stories with the musical, as he tends to write with much fluidity, shifting plot when it makes sense to do so, so he wrote all the Universe Journey episodes leading up to it, well before the rest of those monthly shows were done. This led to Jenko and Fitzy returning earlier in the year, to be present in listener's minds shortly before this program.
Thus, pretty much all preceding installments were on paper before the second half of the musical was written. Kristin adjusted lyrics to fit her music as needed, and took on the medley pretty much single-handedly, working only off of loose story notes, rather than completed lyrics she usually had.
Once the musical was written and the songs composed, it became clear that "Universe Journey: The Musical" was running right around sixty minutes. It was decided to add a second segment, Morning Show chosen because it tended to flow quickly, and a single commercial between the two. These were put at the beginning so that the show would end when the musical did.
A trailer was released for this show.
Segments
Performers
This show was narrated by Chris Allen.
| Actor | MS | UJ | Commercial |
| --- | --- | --- | --- |
| Nick Arganbright | | Kahkay | |
| Katie Boissoneault | | Tokaladie | |
| Kristin Green | Shelly | Neu | |
| Nathan Haley | Gus | Ray | |
| Keith Jackson | Pat | Jamieson | |
| Chase McCants | | Who (speaking) | |
| Joe Morales | | Price | Joe |
| Wendy Parks | | Doyle / Who's singing voice | |
| Karen Perta | | Girard | Karen |
| Samantha Stark | | Butler | Sam |
| Shane Stefanchik | Aidan | M- | |
| Seamus Talty | | Foley | |
| Ryan Yohe | | Anders | |
Absent troupe members: Dan Condo, Dallas Ray, Virgil Von Hartzel
Guest Stars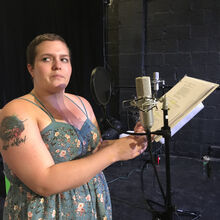 Jessica Gibson was the thirty-sixth guest star of the show and this was her fifth appearance. She reprised her recurring role of Admiral Jenko in Universe Journey.
Suggested Music
Cast member Keith Jackson suggests songs that would go well with these episodes. The music was not used in the show, nor were any rights obtained.
| Song | Artist | Relevant Segment | Notes |
| --- | --- | --- | --- |
| "When Heroes Go Down" | Suzanne Vega | Morning Show "The Aide" | Aidan the Aide is dubbed a hero, albeit a reluctant one, for his interview. |
| "Feed the Tree" | Belly | The EPA "Trees" | Joe discusses the menace of trees with Samantha and Karen. |
| "Begin Again" | Knife Party | Universe Journey "Universe Journey: The Musical" | The crew of the Thrifty contemplate what they'll do without the Thrifty. |
Community content is available under
CC-BY-SA
unless otherwise noted.