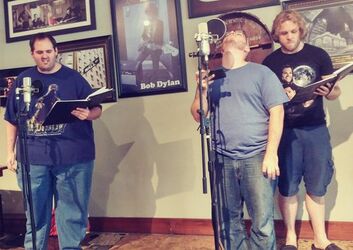 Space Dirt is a segment in It's All Been Done Radio Hour. It was the seventh segment created for the show by Jerome Wetzel, and the program's first spin-off. The character of Harry Dirt originated on Universe Journey, and Space Dirt follows the conman on further adventures.
It was almost a year between the first and second episodes. This was because the first episode was an experiment tossed into a festival show, with no forethought about what the series would actually look it. Given its success, the program went into development, but it took awhile to get it on the schedule.
Since there wasn't much notice for the first episode, it lacks a theme song. However, beginning with episode two, there's a theme composed by Nathan Haley with lyrics by Jerome Wetzel, performed by Dallas Ray and the cast.
Characters
Main Characters
Harry Dirt played by Dallas Ray. Harry is a smuggler and conman, always looking to make a quick buck, and never worrying about breaking a deal. He would always rather run than fight, so spends a lot of time running. But if he senses a pay day, he's willing to stay in one place and put in the work.
Recurring Characters
Scagly played by Ryan Yohe. A small humanoid creature with two personalities, one of which seems a little bit dangerous. He is manservant to Grezelda.
Grezelda played by Mary Sink. A powerful sorceress who was well-respected throughout the Land of Sealan until The Techno came and sent her into hiding.
Episodes
Community content is available under
CC-BY-SA
unless otherwise noted.