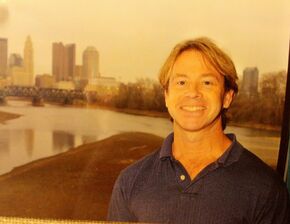 Stephen Woosley is one of the original and current hosts of It's All Been Trekked Before, a podcast on It's All Been Done Presents. Stephen has been a Star Trek fan since the early 70s, and he is the go-to guy for TOS, but going where he has not gone before with most of the rest of the Trek universe. He has also guest starred in It's All Been Done Radio Hour several times.
Outside of IABD, Stephen co-hosts the podcast The Mafia Minute and has been a frequent contributor to Amanda's Picture Show A Go Go.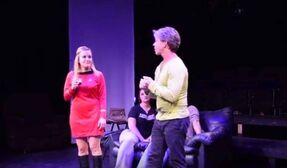 Stephen is an ensemble member at MadLab theatre, where he has performed, as well as written, produced, and directed, since 2004. He is a co-founder and president of his own theatre troupe, OGP. He has also performed improv for the last 13 years as part of the troupe FFN and is currently part of what is left of Fake Bacon.
Guest Appearances in Radio Hour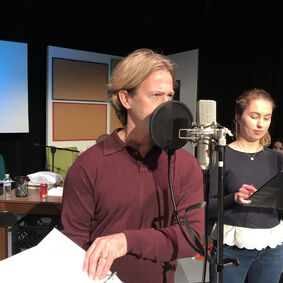 Stephen was the nineteenth guest star in It's All Been Done Radio Hour and has appeared eight times to date. He plays three recurring characters in three different segments. Two of those characters, the dreaded Woosley and The Shat, are often mentioned when he does not appear, part of the fabric of those segments.
All these roles were written for Stephen; he did not have to audition for them. The character of Woosley (along with Nikki Smith) were added in when Radio Hour moved to MadLab as a way to connect the show to its new home theatre. Mickey was offered to Stephen because, according to writer Jerome Wetzel, it just felt like a Stephen part. The Shat was created for Stephen because of his love of William Shatner as Captain Kirk, which the character is a loose take-off of.
Mickey appeared in several episodes of The Topnotch Tangler before crossing over to Holly Harper in a commercial. It is unknown if the same Mickey that is friends with Carl Darling encountered Holly Harper, it could be an alternate dimension version, but it is the same actor and voice, so they could be one character.
Recurring Roles
Stephen Woosley in Packer & Ratcliff. (A fictional version of himself.) Woosley is in "Flee the Woosley" (the season one finale and final commercial) and "The Why of Woosley" (the season four premiere and 250th podcast episode).
Mickey in The Topnotch Tangler. Mickey is in "Hot Dog," "Flamingo," and "Get Away" and Holly Harper "Gets Drunk."
Captain Shatler S. Williamson, a.k.a. 'The Shat,' in Universe Journey. The Shat is in "The Dream," "Shuffling the Deck," "The Worst of Times," "Looking Up," and "A Neu Hope."
Guest Role
Fred in Tina's "Attires."
Carson / others in The Topnotch Tangler "FFN's Date Night: Kim and Carl."