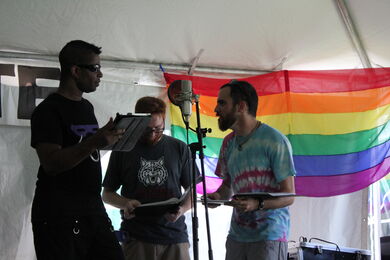 "Three's Company" is the tenth episode of Daniel Kravitz, Chosen One Volume 1 and the tenth installment of the series overall. It was performed at Comfest on June 26, 2016 in the Peace Tent in Goodale Park in Columbus, Ohio, which explains the background noise in the recording. It was released as podcast episode 55.
Written by Jerome Wetzel
Directed by Jerome Wetzel
Previous episode: "Team Work"
Next episode: "The Body"
The Story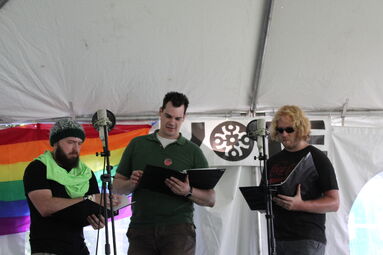 An (unseen) Abby Reynolds runs the shop, Rufus Reginald Rochester and Grezit the Green help Daniel Kravitz work in the training center. A knock at the door signals the arrival of three demon brothers, Razzle, Frazzle, and Jeff, who have come to kill Daniel. Rufus asks if they can do something else besides fight. The demons say no, and since they will attack Rufus for standing with Daniel, Grezit decides to help Daniel, too. Rufus suggests that since each side has three combatants, they pair off. Frazzle fights Grezit, Razzle takes Daniel, and Rufus is assigned to Jeff.
All are soon bleeding, but it takes awhile for either side to gain the upper hand. The tide turns when Grezit slays Frazzle. This distracts Razzle, whom Daniel beheads. Rufus calls for assistance and Daniel beheads Jeff.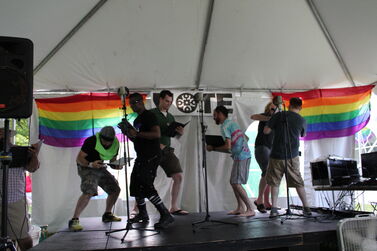 Since he helped, Grezit petitions Daniel to let him out of the doggy cage at night. Rufus supports Grezit's request, but Daniel rightly surmises that Grezit would still kill him if given the chance and denies the request. Rufus lets Daniel be done for the night, but instructs him to be back early the next morning to continue their training.
Guest Starring
Trivia
Abby Reynolds does not appear in this episode because performer Wendy Parks did not attend the Comfest show.
There is also an episode of Pornstar Detectives entitled "Three's Company."
Rerun
A version of this story was performed as the closing segment of IABD Classic 2 on March 9, 2019. No theme song was performed. Karen, Keith, and Nick frequently dropped their monster voices to say 'Jeff,' a conceit not part of the original performance.
Due to Jerome's screw up, Keith switched parts and played Razzle, while Nick Arganbright was Jeff and Karen Perta was their sister, Frazzle. Re-runs are not canon, so the regular story still considers them three brothers.
Community content is available under
CC-BY-SA
unless otherwise noted.