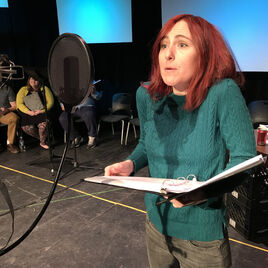 Tina's is a commercial segment of It's All Been Done Radio Hour that first premiered in the summer of 2017. Each commercial centers on a woman named Tina who is trying to sell something, but does not have a formal store of very good product.
The first one was a very bad car sales ad and was called "Tina's Tires." Since then, each product has the word 'tire' somewhere in the product name. Three customers per commercial ask questions of her. None of the characters besides Tina are called by their name, though each script names the question askers. It is very formulaic, with each installment following the same basic structure.
Characters
Tina is played by Kristin Green.
Guest Characters
Episodes
Re-runs
"Tina's Tires" was re-run at the Columbus Arts Festival 2018 with the original cast, except one of the questioners, Margie, was replaced by Mark. "Tina's Fires" was rerun at IABD at The Nest with the original cast except two of the questioners, with Samantha Stark taking Lily and Nick Arganbright voicing Nathaniel.
Community content is available under
CC-BY-SA
unless otherwise noted.