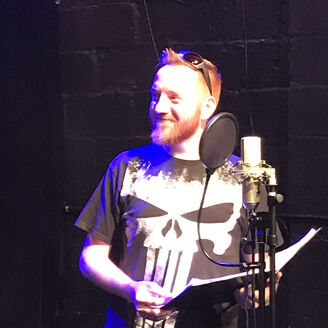 Virgil Von Hartzel is a member of the It's All Been Done Radio Hour troupe. He first guest starred in Show IV. Upon being cast in a major recurring role, along with playing several more guest spots, Virgil was added as an associate troupe member in April 2016. He was an 2017 Audio Verse Award Finalist for his work on the show.
Virgil was about to be offered full-time status in December 2016, but his move back to Arizona kept him from accepting. He still appeared in most 2017 shows, and became a full-time troupe member when the associate role was abolished at the end of 2017. He resigned from the troupe in December 2018 due to other professional commitments, but has returned to guest star five times since then (as of July 2020).
Ever since Virgil's gaze fell upon the TV that fateful day, he fell in love. Characters like Bugs Bunny and Grunkle Stan increased his admiration for the voice and animation art form. This evolved to using the goofy voices created or acquired for the greater good of humanity. His journey began in Coolidge, AZ,  took him to the University of Arizona (Bachelor's in History, Minor in Geology and Archaeology), to Toledo, OH, where he worked for the largest student housing firm in the U.S., and finally back to Arizona, where he commutes from to appear in the show. His Twitter and Instagram username is @My_Ginger_Beard 
Virgil's Meet the Cast was the eighteenth in the series, released as podcast episode 100.
Characters
Main Characters
Recurring Characters
Guest Characters
Commercials
John in Georgie's Jabs "John the Botanist" and Jacob in "The Thrupple."
Alex in IABDPR "Bump or Sticker."
Child in "Mother & Child: Soap of the South."
Zane in "Out of this World."
John in Halftime Report "The Subs."
Ant Extra in "The Grasshopper and the Ants."
Todd Turtle in "Maisy Meets Her Maker."
Lynch Mob Leader in "The Most Serious Conundrum Ever."
Dr. Schwartz in "The Pursuit of Packer" (originally from Pornstar Detectives).
Jack in "Medieval Times."
Dr. Schwartz in 2019 "The Bigly, Huuuge Mess."
Evil Santa in "Ho, Ho, Oh No!"
The Dockmaster in "Danger at the Docks" and "Flamingo."
George in "Rhyme and Rhyme Again."
Murphy in "Our Chief Foley."
Echo Dimension Fervis in "False Echo."
Narrator in "All Good Things... Part 2."
King Grizz in "Sacrifice.
Community content is available under
CC-BY-SA
unless otherwise noted.