Wendy Parks is an original and current troupe member of It's All Been Done Radio Hour, although she did not appear in the first live show, beginning her run in Show II.
Wendy is a wife, mother, and teacher. She lives in West Jefferson, Ohio with her husband, daughter, and overweight cat. Wendy enjoys acting and singing and has participated in many musicals in her local community theater such as Oklahoma, Brigadoon, and Pippin. She loves music and has been a member of her church chancel choir and bell choir for many years. Wendy currently sings in the praise team of her local church, where she also plays tambourine and shaker.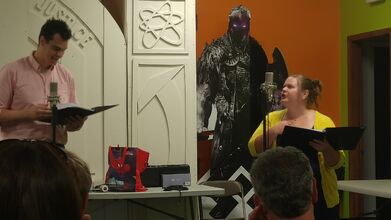 Wendy has been teaching students with special needs since 2007. Teaching is her passion, but in her spare time she loves to spend time with her family, binge watch Netflix, pin things on Pinterest that she'll never have time to do, voice act for Its All Been Done Before Radio Hour, and play board games, computer games, and video games.
During the 2015 live shows (Shows I-VI), Wendy's last name was Webb. She married in December 2015, just before the podcast launched, so she's only been credited as Wendy Parks on the podcast.
Wendy's Meet the Cast episode was the tenth in the series, released as podcast 59.
Characters
Main Characters
Recurring Characters
Guest Characters
Commercials
Ashley in IABDPR "Event Planner" and Oolong in "The Other Sister."
Mother in "Mother & Child: Soap of the South."
Felicia Hart in Trent Tushner "& Felicia Hart."
Mary in Tina's "Tina Is Tired."
Virginia in "Pecan Pie."
Melanie in "De-Posioned Coffee."
Ant Extra in "The Grasshopper and the Ants."
Midwife in "Hector My Hedgehog."
Peasant in "Two Princesses."
Mayor Gloria Applebottom in "The Really Gross Dead Body."
Vicki in "Gather 'Round the Fire."
Hilly in "It's Good to Be the King."
Brenda (Zak's mom) in "The Road to Cincinnati."
Mercedes in "The Devil's Triangle."
Commander Richards in "March to War Part I: The Barren World."
Hee Grappa (Who's brother) in "Who Who?"
Lt. Mesty in "Defrosted."
Echo Dimension Dr. Doyle in "False Echo."
Bystander in "Neu Life."
Dr. Doyle in "Universe Journey: The Musical."
Who's singing voice in "Universe Journey: The Musical."
Community content is available under
CC-BY-SA
unless otherwise noted.